OUR ELDERS
They serve as the spiritual shepherds and overseers of our congregation.
They are selected on the basis of spiritual maturity and a willingness to serve (1 Timothy 3:1-7, Titus 1:6-9). Their roles and responsibilities are tremendous and we would encourage you to continue to pray for each of them. The following men are being reaffirmed as elders: Don Morell, Scott Davenport, Dan Hubbard. Tony Herrera and Ray Walters are being affirmed for the first time.
DON MORELL
Don Morell has been married to Diane Morell since 1984. They are high school sweethearts. Don was fifteen years old when they met, and he knew ge was going to marry her after our first date. They have been at Mountainview for twelve years.They have three great children. Their oldest Angela was born 1988 is in retail sales and loves hiking in the mountains. Their middle child is Alyssa born 1991 is a kindergarten teacher, is married to Aaron Zitek and the have a two-year-old daughter Ashlyn and a son on the way. Their daughter Rilee born 1995 works in Durango Colorado with the fire department on fire mitigation. He sells high performance coatings to commercial vehicle manufacturers. He is a Sr. Co Leader for Marked Men for Christ men's ministry and have served in this ministry for twenty years. Don and Diane love to drive and take short trips in Colorado and love to cook and entertain.
SCOTT DAVENPORT
Scott is a Christ Follower who strives to serve his Lord as an Elder and in other ministries. He is married to Carolyn and they will be celebrating 43years of marriage in October 2022. They have attended Mountainview for nearly 15 years. They have three children. Jodi, their oldest daughter, lives in Highlands Ranch with her husband Dustin and daughters, Christine and Becca. Ashleigh is married to Chase Beck and resides in Frisco, Colorado. Matthew, the youngest graduated from University of Colorado and is employed by the University in its IT department. Scott is a banker working for Independent Financial where is a commercial lending officer.
DAN HUBBARD
Dan and Kathryn have attended Mountainview for seven years. They have four boys and ten grandchildren. All of their sons and their families live in Colorado. Two of their sons,wives and eight grandchildren attend Mountainview. Dan has worked in construction all his life and currently is semi-retired, but is still working part time in his construction business. Dan and Kathryn co-lead their life group and Dan assists with construction and maintenance projects around the church. For fun, Dan enjoys woodworking and metal fabrication.
TONY HERRERA
Tony is married to Freddie and has two sons, Marc and Matthew. The Lord led his family to Mountainview 17 years ago and they have served at Mountainview in various capacities. In 2011, they followed God and began to serve the people of Tunisia. For 10 years they dedicated their time to building relationships and sharing God's love and grace by doing life with people. They saw the local church grow and supported those whom the Lord brought to them for discipleship and mentoring. They returned to the US in July 2021 and since then have been honored to be work alongside Mountainview through a life group and bible studies. His sons are both also involved in the work and ministry at the church in their own way. Tony and Freddie continue to bring hope to people in communities around the globe.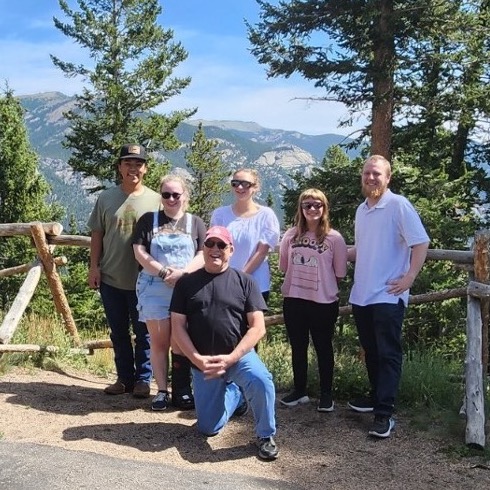 RAY WALTERS
Ray was baptized at the age of 12 and began attending Mountainview in the summer of 2019. He strives to develop in a relationship that glorifies God. He cohosts a men's life group, and participates in two additional life groups.  Along with a team of men, he performs light maintenance work around the church. Ray married his high school sweetheart, enjoyed 46 years of married life and is now a widower. He has two children and five grandkids all of whom are active believers. Ray is a retired project manager and completed several multi-million dollar projects during his career.